Saturday, April 11, 2009
Leslie was absolutely over the moon when she received this sugary traditional easter egg as a gift from her friend! Having stayed in Sarawak since the late 60's Leslie gains a lot of pleasure receiving gifts via the traditional post although she enjoys Internet connectivity right at home! This easter egg is a fabulous handmade thoughtful gift. It was so well packed that not a grain of sugar is damaged.
Having been shown this Easter Egg I started thinking about Easter Eggs of Yesteryears and the present.
The first time I learned how to make scrambled eggs was with Pauline Wiltshire in Rumah Merah where we cooked perhaps more than a 100 eggs for the first English Sunrise Service I ever attended. I will never forget that service nor how many times the scrambled eggs came useful to me in my life. Saved my face so many times when I could not cook for visitors who dropped by suddenly. That's the first dish I would teach my children to cook when they were ready to learn cooking.
Red eggs are not the domain of the Chinese. The Greeks use onion skins to colour their eggs red to celebrate Easter. Indeed that's another fantastic recipe.
I continue to remember how the Cheng Brothers used to send eggs to us on their rounds from Queensway. The two brothers would come by with their bicycles and my mum would pay them immediately. When Easter came we would boil the eggs and donate them to Masland Church (where our Grand Aunt would be in charge). When the coating the eggs red we would get our fingers all red and we would laugh at each other. What fun we had!
Eggs are just so important to the Foochows! When the late Rev Lau Ngoh Kee made his outreach rounds in Sg. Maaw my late grandmother would always give him an extra egg in his chicken noodle soup(mee sua) as a token of appreciation. The late Rev Lau was a very popular Methodist Pastor who was a remarkable and enthusaistic man who provided a lot of pastoral care in his days. He must have walked a few thousand miles in his rounds of home visitation during the early days of the 50's and 60's. Sometimes I wonder where his descendants are.
The rest are images of western world easter eggs! Enjoy them! Happy Easter!
Easter to me would always remind me of physical and spiritual losses (via death or broken relationship)the deep grief - the emptiness of a tomb(which can only be truly felt by those who have lost their loved ones) - and finally the renewal of faith because of the revelation of the resurrection.
Friday, April 10, 2009
Hollywood is a district in Los Angeles, California, United States, situated west-northwest of Downtown Los Angeles. Due to its fame and cultural identity as the historical center of movie studios and movie stars, the word "Hollywood" is often used as a metonym of cinema of the United States. The nickname Tinseltown refers to the glittering, superficial nature of Hollywood and the movie industry. Today, much of the movie industry has dispersed into surrounding cities such as Burbank and the Los Angeles Westside, but significant auxiliary industries, such as editing, effects, props, post-production and lighting companies, remain in Hollywood, as does the backlot of Paramount Pictures.
Many historic Hollywood theaters are used as venues and concert stages to premiere major theatrical releases and host the Academy Awards. It is a popular destination for nightlife and tourism and home to the Hollywood Walk of Fame.
Although it is not the typical practice of the city of Los Angeles to establish specific boundaries for districts or neighborhoods, Hollywood is a recent exception. On February 16, 2005, Assembly Members Goldberg and Koretz introduced a bill to require California to keep specific records on Hollywood as though it were independent. For this to be done, the boundaries were defined. This bill was unanimously supported by the Hollywood Chamber of Commerce and the Los Angeles City Council. Assembly Bill 588 was approved by the Governor on August 28, 2006, and now the district of Hollywood has official borders. The border can be loosely described as the area east of Beverly Hills and West Hollywood, south of Mulholland Drive, Laurel Canyon, Cahuenga Boulevard, and Barham Boulevard, and the cities of Burbank and Glendale, north of Melrose Avenue and west of the Golden State Freeway and Hyperion Avenue. This includes all of Griffith Park and Los Feliz—two areas that were hitherto generally considered separate from Hollywood by most Angelenos. The population of the district, including Los Feliz, as of the 2000 census was 167,664 and the median household income was $33,409 in 1999.
As a portion of the city of Los Angeles, Hollywood does not have its own municipal government, but does have an official, appointed by the Hollywood Chamber of Commerce, who serves as an honorary "Mayor of Hollywood" for ceremonial purposes only. Johnny Grant held this position for decades, until his death on January 9, 2008
This is Mersin my friend from Sg. Brit Marudi who is an oil and gas off shore personnel. An Iban can only be as happy as can be when he is able to obtain a highly valued pantu stump like this. This palm shoot stump costs more than RM 20 in the market but is free in the longhouse if it is part of the kebun planted by his grandfather. This stump is enough for more than 30 people. A huge Indian curry pot is usually used to cook pantu - plain boiling with chicken or pork with or without fu chuk. It is an excellent soup as the pantu is soft and sweet - almost like sweet potato in texture.
Pantu is a popular domesticated palm grown by Ibans all over Sarawak. In fact wherever you see the tall pantu palm you can be assured that there is an Iban settlement near it. It is a palm that can be grown on undulating hills or even in swampy soils.
Discovery Channel has featured the cooking of pantu in one of its programmes on Borneo.
According to an old uncle when the Foochows first came to settle in Sibu the Ibans taught them how to cook this popular food as soup or just boil it with some rice as porridge.In various Chinese documents the Ibans have helped the Foochows learn to eat various vegetables grown by the Ibans and also food found growing wild in the jungle like tapioca leaves and other shoots. It was only later when the Foochows began to grow their own vegetables successfully that they probably stopped eating the wild plants and fruits. My grandmother used to tell us that they often harvested the bamboo shoots from the jungle in Sg. Maaw. But most probably these bamboo shoots were not wild but have been planted by the Ibans more than 100 years ago. The Ibans and Foochows had during the pioneering days of Sibu exchanged vegetable seeds and learned from each other about market gardening. Today after 100 years or so it is hard to tell who started to grow cangkok manis for example!
Pantu can also be cooked in fish curry or stir fried with lots of dried prawns. My family actually loves it very much. It is organic and is definitely fertilizer free . Sometimes because of its high price we share one stump with two or three other families. We normally cook it when we have something to celebrate like a birthday or a graduation.
Many of my Foochow relatives who live near Ibans in Marudi and Bintangor claim that pantu is one of the dishes they love.
Mallika Sherawat Indian Actress
Shilpa Shetty Beautiful Indian Actress
Good Friday is a restful day for those who are retired . It is also considered fairly easy for those without adult children and boisterious grandchildren around. If they have friends around they would not suffer from the proverbial empty nest syndrome especially during a public holiday.
It is a blessing that Sarawak continues to observe Good Friday as a public holiday where more than 60% of the population will gather in various places of worship to remember the bitter crucifixion of Christ.
Apart from going to church perhaps a small gathering of four or five friends would be a nice way to await the Easter celebration. These days such gatherings might be interrupted by mobile phone calls from loved ones and even Skype or chatting on line!! Cyberspace and virtual relationship have become part of life making our later years easier to go by.
After Ching Ming the bittersweet Good Friday which follows just one week later can also be a memorable special day.
Three roti canai and two pieces of naan (similar to the bread eaten by the Jews in Judea during Jesus' time) with dhall curry appeared first on the table served by the cheerful Indonesian made. With our fingers we dug into the roti and the dhall curry very much like the First Century Christians did.
And then an exciting green vegetable dish was served. We did not eat rice by choice.
This vegetable is home grown by a neighbour who makes a good sale every morning. Sometimes in the evening she still has enough to sell to a few more families. Very organic and these curly greens are stir fried quickly with water chestnut. Very crispy and nutty in taste.
Fried Bananas - crispy and perfectly fresh and tenderly sweet.
Another dish was served - bitter gourd fried with ikan bilis and dried chillies to add to the bitterness of the occasion.
finally a dish of toufoo cooked with imported vegetables like celery and sweet peas and small tiny mushrooms came up to sweeten our tastebuds.
All these was washed down by bitter sweet kopi-o.
The bitterness of the kopi 0 reminded me of the bitterness and pain that Jesus must have suffered in the hands of the Romans and the Jews.
An unforgettable and perhaps unique Good Friday vegetarian meal with friends. No merry making with wine. No meat.
Thus we remembered the unique Good Friday more than 2000 years ago when He said"Lord forgive them for they know not what they are doing." Such divine grace. Such compassion. Such love for all of us sinners.
Thursday, April 9, 2009
I'm back with my retrospective on film from 1999. For previous thoughts on why I consider this particular so important
you can read this
. For thoughts on the more forgettable films of 1999
click here
.
When looking back at 1999 I had to ask myself whether or not I could write about most of these without watching them again -- I mean after all it's been nearly ten years since I've seen some of these. But I figured I would roll out the film by film analysis for the Forgotten Gems (because I actually
want
to take a look at those again) and maybe some of the more famous Bad Movies Made by Good Directors. This list is a collection of titles that I used to think were good to great movies (some even masterpieces), but have soured on since I've grown older, and of course, wiser. Don't forget to leave some comments as to your initial thoughts on these films when they came out, and how think of them today.
My hope is that with these snapshot-like "reviews" (They're more like rememberings) I can save some time (I seriously can't watch
all
of these over again) that can be focused more on the really good or really bad films of 1999 that I do want to re-watch. I undoubtedly have more thoughts about these films, and I hope that the comments section will turn into a place for more detailed discussion about these films and why I don't think they hold up.
Let's get on with it…
American Beauty

:


Do you want to see the most beautiful thing ever filmed? Nope. Neither do I. Well we start with the biggest title on the list, Sam Mendes'

American Beauty

. This was definitely the crown prince of 1999, the sorta-indie, sorta-mainstream wry take on suburban lifestyle. However, years removed from my initial love of the film (I was 17 when I thought it was so great, and I saw it four times in the theater) I began to sour on it. Just why did I think this movie was so great? Well, for one it plays to the immature musings and pseudo-philosophical message that a 17 year old would connect to (especially fresh off a reading of

Catcher in the Rye

). It's about mild-mannered people rising up and raging against the machine of conformity – plus it has AMAZING visual poetry…right…right? Nah, the movie just kind of works for me now, as I have seen films that tackle the same ideas with a less glossy sheen. Mendes focused so much on the visual aspect of the film (shot by the legendary Conrad Hall) that it's only now, years later that I realize how paper thin the ideas of this film are. The performances are good (not great, in fact Kevin Spacey's Lester really annoys me now, I wish he'd just grow up) and the cinematography top notch. I think what makes this a film that doesn't hold up is all of the praise and accolades the film received; it was the most revered and lauded film of 1999 among mainstream critics, no doubt about that, but it really doesn't hold up over time. And maybe that's unfair to penalize a film just because a lot of people liked it, but really, I

was

one of those people, and I just don't like it anymore. The metaphors, the false symbolism, the failed attempts at satire and irony (holy crap the slutty girl has never had sex! The homophobic military dad is gay! Get out!), and I don't care how beautiful you think that damn paper bag is…you're 17 just shut up already! The film just seems very sitcomy to me now.



American Pie

:




I think this seminal (no pun intended) gross out teen sex comedy is more remembered for its influence on the comedy film, than actually working as a comedy. This film is only ten years old, but is so incredibly dated. I used to love this movie, and really it was more a product of me being in high school and relating to some of the characters (or caricatures) portrayed in the film. It created a star out of Sean William Scott and really, everyone else just kind of went away (where is Chris Klein? I need more

Rollerball

!) never to really be heard of today. I guess there's nothing really harmful about this movie, it's a step above the usual comedy drek playing at the theaters, and it's just that it feels sooo 1999 with its soundtrack full of Harvey Danger and Blink-182 anthems. I'll still watch parts of it whenever it's on TV, but really comedies today have either outdone the jokes found in

American Pie

, or tweaked them to make them funnier; so, really it's just a nostalgic trip if I catch it on the tube. Good enough, but not the laugh-out-loud comedy I thought it was 10 years ago.



Blair Witch Project

:


This horror phenomenon didn't even hold up on second viewing. And so it goes with a film like this, hyped beyond belief thanks to a tremendously ingenious marketing campaign (you could say this is the film that gave all indies hope for box office success), once you've seen what the film is and the surprises that are in store, then really there's very little to look forward to upon second viewing. I still maintain that the very idea of the film is genius, and that it really is one of those films that define what made 1999 such a memorable year. Much like its surprise filled counterpart,

The Sixth Sense

, this is one of those films where second viewings are not its friend.



Dogma

:


I was having a conversation with a friend of mine the other night about Kevin Smith. I felt like a lot of his films fail to endure the test of time, while he found that most of Smith's movies are tolerable, if not great. This all stemmed from the fact that I haven't seen his latest effort

Zack and Miri Make a Porno

, and I think that lack of urgency to see it is based on a recent re-viewing of

Dogma

. I remember loving this movie, but when I sat down to watch it again the jokes felt so dated. Smith's humor is love it, or leave it, and I tend to give him the benefit of the doubt because a lot of the time I think he's a decent storyteller. But

Dogma

is a dog of a movie. I don't much care for the religious controversy surrounding the movie; you can't take the movie seriously because it contains a giant poop monster, but that's just it: it has a giant poop monster…I just don't think that's funny anymore. I've always swept aside Smith's penchant for bawdy, middle-school humor because his stories are usually about a lot more once you peel away filthy layer after filthy layer; but the recent flurry of Judd Apatow hits (and his protégés) show how to really make a film that is part gross-out comedy and part drama. I guess I've evolved as a nerd, moving from the more pre-teen Smith humor to a more refined, post-college type of humor. Alan Rickman is really good in this, and so is anything involving Ben Affleck and Matt Damon, but the other stuff with Chris Rock and Selma Hayek and Jason Lee and Jay and Silent Bob…meh. It doesn't age well.



Eyes Wide Shut

:




Zzzzzzzzzzzzzz. Oh sorry. I'll always remember this as a film that was more memorable for the experience than the film actually being any good. The first, and sadly, only Kubrick film I saw in the theater, I thought it was really cool how I got to see a film of his on opening weekend – not a reprint or re-release, but a premiere of one of his films. The film itself is excruciating to get through, and really, the eeriness subsides after the 120 minute mark. The late Sydney Pollack is wonderful, atoning for his sins for directing an even bigger yawner

Random Hearts

the same year.

Eyes Wide Shut

is a must see if you've never seen it, but really it should be appreciated for its aesthetics and nothing more – the narrative is about as banal and throwaway as it gets. I know I may be in the minority on this one, especially since it was the last film Kubrick left us, but seen now, ten years later, it's not that good of a film. Admittedly I am not much a Kubrick fan, I think his

Barry Lyndon

and

Paths of Glory

are two of the finest films I'll ever see, and of course there's no denying the importance and visual brilliance of

2001: A Space Odyssey

, but that's about it for me in regards to Kubrick's oeuvre. And maybe that's why I don't feel that weird thinking that this is a film that just doesn't hold up. This is probably his most uninteresting film aside from

Full Metal Jacket

.



The Green Mile

:


I love love love Frank Darabont's

The Shawshank Redemption

, but man was this attempt at another Stephen King penned prison film a chore to get through. Darabont loves to wander through his films (

The Majestic

is the same way, but I liked those characters a lot, and the feel of the film was warm and genuine, so I didn't mind the stay) and he never seems to be in too big of a hurry to wrap things up. In

The Shawshank Redemption

it's fitting, because the viewer is supposed to feel that sense of never ending entrapment; but with

The Green Mile

it felt unnecessary and redundant. Too often it felt like Darabont was trying to re-coax the magic found within his previous film, but really

The Green Mile

gets bogged down in murky religious metaphors and long, laborious scene after long, laborious scene of sweaty men with bad southern accents. I think I remembered liking this movie more based on the fact that Darabont was a favorite director of mine, so I let him off the hook for this one. This is one of those rare dramatic Stephen King stories that doesn't hold up too well. I prefer the aforementioned

The Shawshank Redemption

and Scott Hicks' adaptation of

Hearts in Atlantis

. Nope, this one doesn't hold up well at all.



Man on the Moon

:


Jim Carrey's performance almost saves this Milos Foreman directed film from the list. It's an amazing performance filled with nuances and over the top emoting and all the crazy and unidentifiable madness that everyone associated with Andy Kaufman. The problem is, as much as I am huge fan of bio pics, all this film made me want to do was watch documentaries about Kaufman. There are some fine performances and some stabs at insight into how Kaufman really was when he wasn't doing a bit (although you could argue that his whole life was a bit), but again, there's nothing new here and all of the specials that aired on TV while this movie was being promoted are a lot more interesting. The film bombed, and that's really too bad because it's a great performance (Paul Giamati is great, too), but it's no surprise that audiences weren't willing to shell out money to see something they could have gotten for free on TV.



The Muse

:




I love Albert Brooks. He's one of the funniest, wittiest comedians in the biz. I really liked the satire found in

The Muse

, but really this film is like most of his recent endeavors: they just kind of exist. Brooks is a writer/director who always brings something to the table; even his bad films are a notch above other comedies, but with

The Muse

the whimsy wears thin half way through the film. When I watched it again recently I didn't really mind that I was watching it, but it's not as good as I remember, and that's more due to the fact since I was 17 I hadn't really seen many of Brooks' films apart from

Lost in America

. Now I've seen them all, and I can say that

The Muse

ranks somewhere near the bottom and doesn't really hold up when you compare it to your other options from Brooks.



The Sixth Sense

:


This was the beginning of the end for M. Night Shyamalan and his wacky swerve endings. It worked here because it was so new to American audiences (although I have to be one of

those

guys and say: I kind of guessed the ending when I first saw this) and it was such an understated ghost story. There's a lot to like here: good atmosphere, strong performances (annoying kid aside), and some creepy ghost moments, but really the film is like

Blair Witch

in that once you've seen it, you don't need to see it again. I liked what Shyamalan did in

Unbreakable

and

Signs

, but boy did his string of goodness end there:

The Village, Lady in the Water, The Happening

; all giant pieces of crap, and really they sour second viewings of his earlier films because you realize what a one trick pony he is, and that trick just isn't very exciting if you've already seen the movie. One of the worst of this bunch when you consider it under the terms we're playing by here.



Stir of Echoes

:


Here's a case of how I would see anything as long as it was a horror flick. I remember thinking this was really original when it came out, but now, not so much. When put in context, however, the film is quite original – this was released prior to the flurry of "other side" or "medium" films. The acting is good, and some of the more suspenseful scenes string you along pretty nicely, but again, does it hold up? Not really. This is a classic case of thinking something is really cool when you're in high school, but watching it again, years later, you realize just how lame the movie is. Writer/Director David Koepp gets some things right, but really this felt stale upon its release due to the surprising success of the other ghost story movie

The Sixth Sense

, which came out a month prior to this one. One made hundreds of millions of dollars, the other one was forgotten after its opening weekend, but both fail to hold up 10 years later.



Summer of Sam

:


Here's a case of being 17 and thinking anything playful with editing and music is cool. Spike Lee is hit or miss with me, and I remember thinking that this was a great film filled with manic performances, manic editing, and manic music all perfectly encapsulating a manic time in New York City. I watched this on HD movies the other night, and wow was it boring. This is gratuity run amok, and Lee is obviously covering for his lack of a story with his kitchen sink approach to filmmaking. This is defiantly one of his less subdued films, and really, I think the only Spike Lee films that endure are the ones that are more nuanced. Adrien Brody, in one of his first roles, is really good here, but other than that. And WHAT was that orgy scene all about…


Other films I thought of, but are in kind of a gray area:

Boys Don't Cry, Notting Hill, The Straight Story, Tango, Ten Things I Hate About You, Twin Falls Idaho, The Winslow Boy

.


I'll be back later in the month with a look at some bad movies made by good directors, and just to whet the appetite these films will include the following:

Any Given Sunday

(Oliver Stone),

Fight Club

(David Fincher),

The Ninth Gate

(Roman Polanski), and

Random Hearts

(Sydney Pollack). Until then…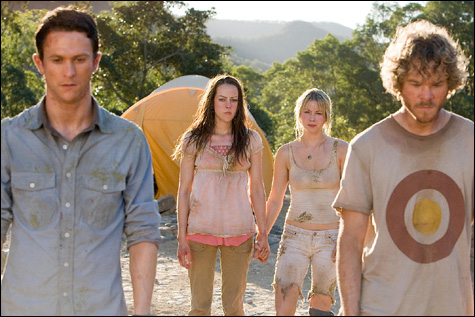 If every film that were adapted from a book was to be viewed directly after reading the source material, then each one of those films would be doomed for failure. It's inevitable that the reader has created a better film in their mind; storyboards that no doubt clash with the filmmaker's vision of how that source material should not only look on screen, but be transferred to the medium of film. I'm sure that Carter Smith's The Ruins, when isolated from its source material, is an adequate enough horror film; however, I cannot separate it from its source material because I happened to read the book written by Scott B. Smith (no relation to the director) in one sitting – then I watched the movie. Maybe I was too ambitious in thinking that I could go straight from reading the book to watching the movie, and perhaps I should have allowed myself a buffer zone; but I was eager to see the visualization of Smith's fantastic horror novel.

It's inevitable, too, that the reader will always nitpick the small changes that are found in book to screen adaptations. These tweaks are necessary sometimes, because setting something up in film (especially in a 90 minute horror film) is a lot harder than using the first 100 pages of a novel – so I don't fault Smith's film too much for messing with the story and abandoning all remnants of character development, but what does seem odd is Smith's penchant for dropping characters and changing the situations that happen to specific characters so that they can fit into a more conventional (and profitable) horror prototype.

Smith's novel is about two vacationing college couples (Jeff and Amy and Eric and Stacey) who meet a German named Mathias in Cancun, Mexico. They engage in small talk, and Amy even kisses Mathias in a drunken haze. They become chummy and then Mathias tells them about his brother who left with an archeologist to an ancient Mayan ruin. They run off to find him and in the process meet a Greek who doesn't speak English; they take him with them as he leaves a note with a map to the ruin on it for his other two Greek friends who are sleeping one off.
Naturally they come across many ominous signs that should be taken as a warning, and Amy is the only one in the group to recognize them, she's hung-over and not in the mood for a hike, so her boyfriend Jeff, thinks she just isn't feeling good because of that. Jeff is a bossy guy, a med school attendee, he is the self-proclaimed leader of the group; he insists that they continue despite the bad feeling Amy.

Once on the ruins bad things happen as they become prisoners on top of the dig site because for some reason the local Mayan's won't let them leave the site. And their afternoon hike becomes a multiple day struggle for survival as they battle hunger, thirst, broken bones, and some scary ass vines. The rest of the story I dare not give away, because that is the joy and the exhilaration found in Smith's horror novel; a novel worthy of being compared to something Stephen King would write. Smith's novel does an amazing job of building and compounding banal scene after banal scene where the reader really does feel tired and sun-burnt and hungry and exhausted.

Smith writes the novel as one long sequence – there are no chapters in The Ruins and reading the novel is like having your entire body in a vise grip, you go from one scene to the next at a breathless pace; the characters don't get any breaks for rest and neither does the reader.

I rarely read horror novels anymore, as most of the stuff I read I guess could be construed as 'arty' or 'heavy' books, but I wanted to give this one a shot because I loved Smith's previous (and only other) novel A Simple Plan. I read Smith's story in one sitting, and that's not to say that the novel is comparatively lesser than the aforementioned types of novels I read, it actually means that the novel was extremely entertaining and utterly hypnotic. I zipped through it because I was like a madman wanting to see the novel to its end. The ending of the novel is something I knew the filmmakers wouldn't have the conviction to keep intact, but I held out hope that Carter Smith's version of the novel (scripted by the writer of the novel Scott Smith) would at least be serviceable in bringing to the screen a horror story that reminded me of the claustrophobic, everything-gone-wrong type of horror stories found in modern films like Bug, Deep Water, and The Descent.

The film version of Smith's novel is a mess – and again I freely admit that I probably shouldn't have viewed it directly after reading the novel – a herky-jerky gore fest that is not at all interested in the banal, slow build of dread that made the novel such an intense and horrifying read. Smith the novelist shows with his two novels that he is interested in this banal evil (especially in A Simple Plan which was made into a superb film by Sam Raimi) and how it plays with our minds. Perception is a big factor in the novel. Are these things really happening to these people, and did I just read that a vine was aping a cell phone ring tone? The film, however, is not all interested in building anything. It wants to show you gore and creepy vines that are more out of a monster movie than something ambiguous and frightening.

The film has decent enough acting, but inexplicably Scott Smith let the Carter Smith do whatever he wanted to with his story (reading about the film I found that the author apparently has no qualms about letting his work be manipulated by studios) turning it into more of a dead teenager movie or a vacationers go missing torture porn, than a truly horrifying film. Sometimes it's okay for "nothing" to happen, because sometimes that's the scariest thing (think Deep Water or some of the hopelessness found in The Descent.) The results of Smith the director tinkering with Smith the writers work is that for no reason, other than to plug in these characters into a more traditional American horror formula, Smith the director omits certain characters, changes events, changes the way some characters act, and has things happen to different characters.

There's one scene that is truly horrifying in the novel: there is a moment when The Greek has his legs eaten by the vines (in the movie it's Mathias, who is one of the central, and strongest, characters in the novel, who in the film is relegated to screaming) and one by one the characters happen upon it. There's a slow buoild to the realization of why the Mayan's won't let them off the ruins, and that's totally omitted in the film. Instead, we are left to see Mathias with vines wrapped around his legs and then the famous hacking off the legs scene.

The film wants nothing more than to try and shock you with gory moment after gory moment, all of which are laughably spliced together out of context and at rapid speed. The film's opening should be ample warning for those who have read the novel: the vines are monsters that kill because they want to, not because they are feeding. For as laughable as the original premise is (what horror premise like this isn't, really) at Smith the writer didn't have his vines just eating people for the hell of it. In the novel it was only when there was blood (or in an odd and horrifying scene semen) is spilt that vines come out to play. And usually the vines were interested in mocking the inhabitants of the ruins in an attempt to drive them insane so that they would turn against each other. In the film, however, they suck you into the earth and stalk their prey hissing and moaning and grabbing at the hapless female victims (another insulting thing about the film version, they swap characters when it comes to all the bad things that happen – in the book Eric is the one who wants to cut himself open, not Stacey); the already laughable premise is heightened by the eye-rolling formulas that the films relies on.

The film was doomed for the start – in my own mind. I had envisioned a decent film that was predicated on of the most horrifying thoughts of all: the idea that nobody is coming to save you. Instead Carter Smith turns a great horror read into something yawn-inducing and predictable, a paint-by-numbers exercise that is horribly uninteresting when compared to the novel.

Brief Synopsis:
This was one of the books I never got around to reading when I was younger, but I remember looking at the title and the cover and thinking, "Ooh. Scintillating." Well, I would have had I known that word. Stacey's workaholic father, Ed McGill, wants to spend some quality time with his daughter, so he tells her she can pick any vacation spot she wants this summer, and that she can invite along Claudia. She picks Fire Island because her boyfriend, Robert, is going to be working on the ferry there this summer and this way they can spend time together. The only problem is that she doesn't tell anyone. Claudia finds out when they get there. She's not happy about it, but she deals with it. But Stacey ends up ditching her to hang with her man for most of the vacation and eventually Claudia gets pissed when Stacey keeps putting her second.
Then Stacey's dad finds out and she's in major hot water. But it also turns out that Mr. McGill brought along a secret girlfriend who was renting a house of her own, named Samantha. Stacey and her dad have a long talk, etc., and then Stacey apologizes to everyone and they accept it (why? I have no idea).
Subplot involves Mallory "Don't waste an A-plot on me" Pike and Jessi "Black is nothing short of drop dead gorgeous, muthafucka" Ramsey as camp counselors in training (didn't we already do this plot, like five times over?). Two of their campers, Haley and Vanessa, wear the same swimsuit on the first day and then get into a huge fight, so it's up to Mal and Jessi to patch things up (yeah, you know they do).
If you're wondering if this is the book where Ed McGill is busy working and then hands Stacey some cash and tells her to go pick out something pretty to wear to dinner that night, you're right. It is. And no, I haven't stopped shuddering, thanks for asking.
Stacey and her dad eat dinner at a fancy restaurant the night her dad tells her about the vacation plans. Stacey orders shrimp cocktail (sans sauce--don't forget, she's got the diabeetus) and snapper, her dad orders steak au poivre. [Side note: every time I order shrimp cocktail, I get to hear a lecture about how phenomenonally overpriced it is.] They're at the Lion's Lair, a totally fictional restaurant...and I got bored midway through reading, so I decided to fill in what I believe the characters were really thinking. Ed:

Goddamnit, I did not bill a client for 16,242 hours last year so she can order the most expensive waste on the menu, and on top of that, I still have to pay alimony AND child support? Screw it. Next time it's Applebee's or nothing.

Stacey:

Oh, I love the Lion's Lair! I wonder if my hair looks fluffy enough today. But not too fluffy. Maybe I should get it layered?
When Claudia finds out that Stacey lied about Robert being at Fire Island, she storms off and Stacey goes to calm her down. Stacey thinks it's really cool that Robert takes off, but then comes back a few minutes later asking her if everything's okay, because it shows that he can give her her space, but still backs her up when she needs it. No, actually, Stacey, it means that Robert is so spacey that if you guys ever go to Times Square together, you'll need to invest in one of those toddler leashes.
Stacey's reasoning for lying to Claudia was that Claudia wouldn't have come if she'd known the vacation was an excuse to see Robert. She's all, "See? I had to lie!" So it's okay to lie if it's to get what you want. With your high math skills, Stacey, if Enron hadn't gone under, you'd have a cushy executive job (if you ever get out of the eighth grade, that is).
So after a few days, Claudia's getting annoyed at being the fifth wheel. [Yes, you fans of Television Without Pity will note that I used the phrase correctly--FIFTH wheel, not third.] Seriously, Stacey says stuff like how she could ditch Claudia at the beach to go see Robert, but at night she HAD to take her along or her dad would be suspicious. So Claudia complains one afternoon while she and Stacey are waiting for Robert to get in from the last ferry ride, and then Stacey tries to make Claudia feel better by inviting her to have lunch with them. Which means that originally Stacey was planning on having lunch with Robert alone, and telling Claudia to just vamoose? Um, Claudia, WHY are you still friends with her? You deserve some kind of medal in self control for not letting it spill to Robert that oh by the way, Ms. Uber Sophisticated peed herself at a slumber party in New York back before she knew she had the diabetus. If I were you, every time Stacey dropped a hint about being left alone with Robert, I'd be all, "I don't know. That DEPENDS." Yeah, Claudia was more mature at thirteen than I am now.
Stacey says that her room at her father's Upper East Side digs is kind of small, but that's okay since she spends so little time there. Okay, sorry, now I have to add in what her dad would say.

I worked through Christmas AND Thanksgiving last year to afford a two bedroom upper east side doorman building on top of keeping you and the baby mama in luxury, and the fucking room's too small? Okay, you're relegated to the closet, wench--Samantha and I need a new love dungeon.
Even Stacey's dad gives her the silent treatment when he finds out that she lied to him. Harsh, but awesome. And a long time coming. Okay, Ed, now pull an Alec Baldwin and leave an angry phone message telling her she's a selfish little pig the next time she refuses to come to New York and visit you. Go burn down, burn down Bloomingdale's. And then give her an ultimatum: you're tired of being her cash cow and she has to choose between her insulin shots and her monthly perms. (God, I'd kill to see the look on her face.)
I think this is the time when I'm supposed to psychoanalyze the main character and conclude that she latches onto anything with a Y chromosome because her dad never gives her enough attention (the divorce, him working such long hours). But I hate Stacey with such a flaming passion that I can't really blame Ed for making up so many excuses to avoid spending time with her.
You know, Claudia's imaginative, funny, an interesting dresser, artsy, smart--well, artsy, and she's got a lot going for her. Why are she and Stacey still friends? What really sets Stacey apart from the other BSC members? We've already got a blonde member (Dawn) and a member who's into guys and clothes/make-up (Claud). The only things that really makes Stacey unique are that she's good at math and from a vibrant metropolis (I forget which one. New...Brunswick?). Oh, and the fact that she occasionally channels the spirit of Wilford Brimley.
Shannon doesn't seem to have a BFF, so, Claudia, if you must attach yourself to someone at the hip, pick her. You'll still have a fashionable, blonde girl around, so it's not like things will change all that much (and honestly, weren't those Stacey's two main selling points?). Plus, you won't have to worry about her throwing a tantrum if someone else has the nerve to order sugary fudge or non-diet cola. (Sure, Stacey always says she's fine with the sugarfree alternative, but I bet she's pouting the whole time.)
Stacey writes a letter to Jessi saying that she's looking forward to seeing her and Mallory when she gets back. And that's where you know she's desperate because little Miss Can't Be Nonbitchy has no other friends that haven't already been alienated. Seriously, when else does Stacey ever speak to those two unless she either wants dance lessons and/or a dose of white guilt (from Jessi) or a feeling of superiority on those days when she's got either a bad hair day or a zit or something (from Mal).
Speaking of Mal, Jessi, and their recycled non-plot, since when do nine year olds care about wearing the same outfit? This is almost as believable as the Hobart boys wanting to look nice for their "dates" in that Valentine's Day book. And it's a hella ugly bathing suit anyway--a red and white striped suit with a ruffle along the neckline (the fuck?). Never was so much fuss made over a bathing suit about which I cared so little. Except for possibly that weird ass bathing suit that wasn't really a bathing suit on season one of

Project Runway

. You know, the one that Kevin designed, and that Morgan wore to go out partying in, and it got ruined and then he almost lost the challenge, but luckily Alexandra's sucked even more? I miss

Project Runway

. Where was I? Oh yeah. Ruffles on swim suits make me retch. Neither Haley nor Vanessa is even remotely fierce enough to pull off this outfit. Now, Becca Ramsey, MAYBE, but these two biyatches are only slightly less annoying than Karen Brewer.
Claudia enters herself, along with Stacey, Kristy, Shannon and Mary Anne (the other three girls are up visiting for a weekend) in a parade, with a royal theme (prince, princess, jester, and so forth). Stacey has to be the dragon because they're all pissed at her. Why couldn't you guys always make her dress up as a dragon? Although honestly, dragons are kind of cute. Make her dress up as a used tampon instead.
During the vacation, Claudia spent most of her time building and photographing elaborate sand castles. Her photographs end up selling for a lot of money, and at the end, Stacey brings her the cash she earned and then apologizes. Claudia says that the money will pay for new art supplies, Nancy Drew books, and chips, and Stacey asks if that's all she needs to be happy, looking all contrite and ready to make up. I would have said, "No, I also require Devil Dogs, a buttload of dresses from

H&M

and the complete

Sopranos

on DVD and if you provide me with those things, I might consider one day speaking to you." But Claudia's all, "I need a best friend!" and they make up and say they'll never let a guy come between them. Hmmm. Until Jeremy of BSC Best Friends Forever! I was kind of hoping Claudia would request to see Stacey down eighty Pixy Stix before she made up, but either she's a better person than I am, or Ann M. Martin caught that in one of the early drafts. Revenge may be a dish best served cold, but I guess it's too spicy for Ann M. (Now, if it were a dish of cold, bland, plain old vanilla ice cream...)
Kristel Leopard